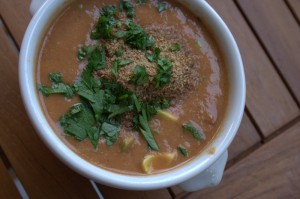 Need a refreshing meal during hot weather?
Try this cold soup (gazpacho) !
Gazpacho
Mix the following ingredients in a blender until smooth:
1/2 cup water
2 tablespoons olive oil
5 large ripe tomatoes
2 cloves garlic or pepper to taste
5-7 dates, pitted (raisins work just as well)
1/4 cup lemon juice
1/2 teaspoon of Celtic sea salt (optional)
1 bunch fresh basil
Now you have the gazpacho liquid.
Cut vegetables into cubes 1/4 inch following:
1 large avocado
1 medium bell pepper
5 stalks celery
1 small onion (optional)
Mix all ingredients in a bowl and sprinkle with chopped parsley.
Serves 4-5.