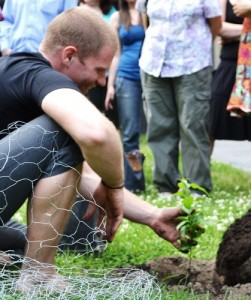 BioCité is a young Montreal business working in urban agriculture and edible landscaping in Montreal since March 2012. Founded by Julien Yensen Martin, his vision is to contribute to the achievement of a sustainable and responsible green city, where every household can easily grow, biologically and locally, it's own food.
The mission of BioCité
Bring simple and effective solutions for Montrealers:
Promote local, healthy, living and organic food
Make our personal and community living spaces more healthy and harmonious
Establish lasting social bonds in our communities
Promote sustainable development with urban agriculture and our ecological methods
My passion for gardening :
Before founding BioCité, I lived mainly in cities, especially in Montreal, but also to Dublin (Ireland) and Berlin (Germany). Although I always like cities, I've often felt a lack of connection with nature.
It was during my travels in Europe that I discovered a passion for the environment and agriculture through "WWOFING". I lived and worked on various farms, discovered the traditions and the relationship that people have with nature, weather, etc. This paved the way for me …
I returned to Montreal to study Environmental Science at UQAM before working as a garden coordinator in the CRAPAUD in 2011 (a collective garden in the science campus of UQAM). The same year, I got my certification in Permaculture (PDC).
For several years now I practice edible gardening in urban areas, whether in bare soil or in containers. Following my experiences and knowledge, I research and develop sustainable ways to eat healthy while taking care of our planet.
Julien Yensen Martin